THE HEATBOX
The next project that you will need to undertake is the construction of a heatbox. A heatbox is nothing more that an appropriately sized plywood box, lined with foil-backed foam insulation. The heat source is 4 - 150watt lightbulbs in ceramic bases wire in parallel. It's important to wire the bulbs in parallel so that if one bulb burns out during the baking time, the other bulbs will continue to produce adequate heat. These bulbs are usually placed in the top of the hotbox. You will also need a thermoswitch or regulator which will keep a constant temperature in your oven during the 7-8 hour bow baking process. Use 12 gauge wire that is designed for high temperatures if you run the wiring internally. You can use regular 12 ga. wire if you decide to leave the wire on the outside of the box. High temperature wire can be obtained at appliance repair facilities or at your local hardware store. If you wire externally, I would recommend that you use conduit to prevent accidental damage to the wiring. The following illustration is a wiring schematic for the hotbox.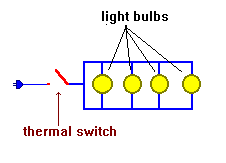 The size of the hotbox will depend on the type of bow that you are making. It is a good idea to make the hotbox so that it will handle a longbow form. This way any style of bow form will fit.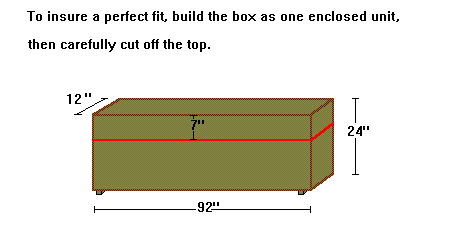 It is a good idea to use piano hinges to hinge the top, due to the hinges strength, and to also use light chain as a stop to prevent the lid from opening too far.